How it works
We believe anyone can time their own event, just like the pros, given the right tools.
The patented KORGEO Timing System is designed to be simple to use, feature rich, and user friendly so race volunteers can time events.
Modern Timing
The KORGEO Timing System requires only a laptop computer with the KORGEO Timing software and Bluetooth timing beacons to time an event.
‍
The KORGEO Timing software:
Assign race bibs/timing beacons to pre-registered participants on race day
Take race day registrants and assign bibs/timing beacons
Time the event and post results
Bluetooth Timing Beacons:
The timing beacons are powered by a battery and broadcast a unique ID
A timing beacon is associated to a participant in the KORGEO Timing software during packet pick-up
Participants clip the timing beacon to a shoelace prior to the race start
Legacy Timing
RFID technology has been around since the 1980s and is integral to monolithic race industry timing systems.

RFID/Chip timing systems involve a computer running specialized software, a RFID reader device, a plurality of RFID antennas, a 120-volt power source, and passive RFID tags.

Quite often, RFID systems are cumbersome to implement due to the number of RFID antennas needed to achieve accurate results, the necessity to mount the RFID antennas onto a structure, and having to meet the power requirements for all the equipment.

This type of system is expensive and requires trained professionals to set up and operate.
Once the race starts, the KORGEO Timing software on the laptop computer detects each participant and records a start time. When the participant crossed the finish line the participant is detected again and a finish time is recorded. The participant's finish time, pace, and age group placement (if applicable) are calculated and automatically published to the race results web site.

For those that want to get technical…when a timing beacon is advertising, it is broadcasting public advertising data that any other Bluetooth capable device (KORGEO Timing laptop) is welcome to receive and react to. Bluetooth devices broadcast their advertising packets at intervals as to not 'collide' with other timing beacons that are broadcasting. At each broadcast interval, the timing beacon broadcasts its advertisement packet with the timing beacon's unique ID and a Radio Signal Strength.

The advertised packet contains a unique ID which allows the timing beacon to be identified. The advertised packet also communicates information about the strength of the signal being received which is used to detect the proximity of the timing beacon to KORGEO Timing software thereby determining if the timing beacon is traveling towards the laptop or away from it. The signal strength analysis provides precise information on a participant's location and elapsed race time.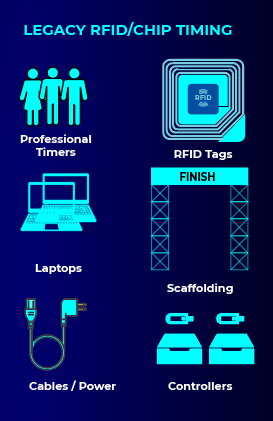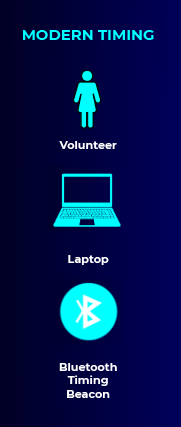 Turnkey Solution
Everything you need to create a great race experience:
Event management - Manage your event in the cloud. Configure event fee windows, multiple distances, discount codes, and more
Race registration - We make it easy for your participants to register and pay for your event through our secure race registration platform
Event timing - Modern timing technology anyone can use
Race results - Results are automatically pushed to the cloud and available once the finisher crosses the finish line